Make easy payments over 3, 4, or 10 months with ALMA !
It was a daring move! A naked diamond, simply pierced on a rose gold chain.
The loose diamond is the signature of the La Brune & La Blonde brand. Unattached, this pretty stone will shine with a thousand lights. Delicately linked to a rose gold chain, the 0.20 carat diamond will quickly find its place around your neck. Subtle and refined, the necklace from the 360° collection will accessorise every outfit with style. An eternal diamond for a confident, elegant woman.
Brand

La Brune et La Blonde

Reference

PE0002PGDI

Condition

New

Country of manufacture

France

Warranty

All of our watches and jewelry are covered by an effective warranty for a minimum of two years. This can be extended depending on the brands and products purchased on our site. For any question concerning the conditions relating to our guarantees: hello@lepage.fr

2 years

Brand Collection

360° - La Brune et la Blonde

Model

Pendant 360° - Pink Gold Brilliant Diamond 0,20 carat

Gender

Woman

Color of the gemstone

White

Gemstones

Diamond

The 4 criteria of evaluation of the diamond are defined by the "4 Cs":

- Cut (its size, i.e. the shape that the cutter has given it by creating facets)

- Clarity (its purity)

- Color (its color, ranging from D exceptional white + to Z tinted)

- Carat (its weight)

Main gemstone cut / shape

Round brilliant

Number of gemstones

1

Carats range

0,20 to 0,30 carat

Average total weight of stones on jewelry (in carats)

0,2
Model

Pendant 360° - Pink Gold Brilliant Diamond 0,20 carat

Materials

18k Rose Gold (750 ‰)

18k rose gold (750 thousandths) is 75% pure gold, alloyed with other precious metals to make it workable and give it its beautiful pink color. It is the most beautiful quality of gold that can be found in jewelry. 

Number of gemstones

1

Carats range

0,20 to 0,30 carat

Average total weight of stones on jewelry (in carats)

0,2

Chain length

39,5 cm, with adjustment rings

Mesh

Forçat type

Materials

18k rose gold (750 ‰)

Category

Necklaces
Gemstones

Diamond

The 4 criteria of evaluation of the diamond are defined in English as the "4 Cs":

- Cut (its size, i.e. the shape given to it by the cutter by creating facets)

- Clarity (its purity, defined by the inclusions with which the stone is endowed, visible with a magnifying glass x10)

- Color (ranging from D, exceptional white +, to Z, tinted)

- Carat (its weight)

Main gemstone cut / shape

Round brilliant

The "round cut", also called "brilliant cut" is the cut (i.e. the way the stone is cut) considered to be of ideal proportions to maximize brilliance and fire.

Average total carat weight of the main gemstone

0,2

Main gemstone diameter

3,8 mm

Main gemstone clarity

V.S.2-S.I.1

Very small inclusion à small inclusion

Main gemstone color

F-G

Number of main gemstones

1

Average total carat weight

0,2
Chain material

Rose Gold 750 th

Sub-typology

Necklace
The opinion of the Lepage team
"Revisité avec audace et modernité le classique pendentif diamant orne ici une chaîne en or rose 750 millièmes. Percé, dénué de serti, le diamant réfléchi la lumière comme jamais ! La simplicité de ce collier en fait une valeur sûre que je ne quitte plus." Julie, Lepage Lille

Lepage is an official LA BRUNE ET LA BLONDE reseller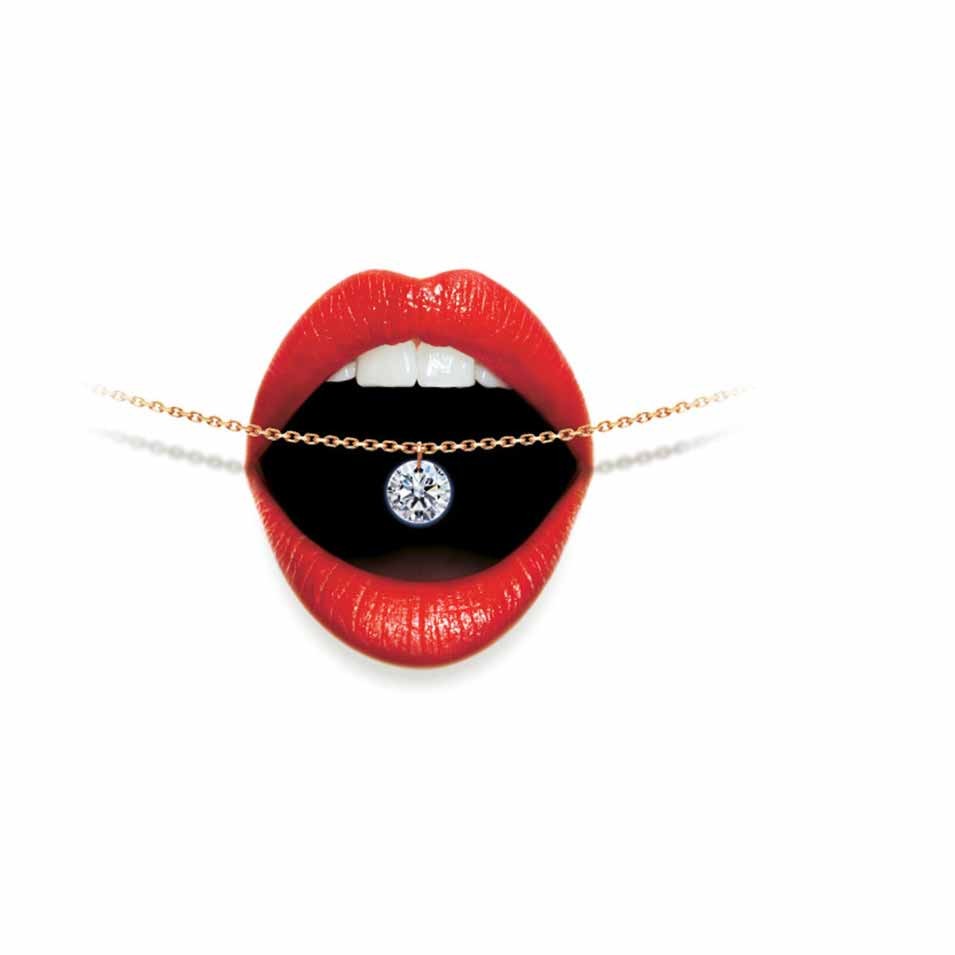 Discover LA BRUNE ET LA BLONDE