Spread your payments over 3, 4 or 10 months interest free up to €15 000 !
France's Largest Authorised Luxury Watches and Jewelry Retailer
La pureté du diamant taille princesse se révèle dans le plus simple appareil, dénué de serti au côté de l'or blanc.
La taille princesse du diamant de 0,20 carat du collier 360° La Brune & La Blonde vous séduira pour sa forme si particulière. Un délicat petit losange fera des étincelles autour de votre cou. Non sertie, la pierre sera plus brillante que jamais et vous ne vous lasserez pas de l'admirer sous tous les angles. Féminin et plein de charme, ce collier en or blanc habillera chacune de vos tenues.
Brand

La Brune et La Blonde

Reference

PE0008WGDI

Condition

New

Country of manufacture

France

Warranty

All of our watches and jewelry are covered by an effective warranty for a minimum of two years. This can be extended depending on the brands and products purchased on our site. For any question concerning the conditions relating to our guarantees: hello@lepage.fr

2 years

Brand Collection

360° - La Brune et la Blonde

Model

Pendant 360° - White gold diamond princess 0,20 carat

Gender

Woman

Color of the gemstone

White

Gemstones

Diamond

The 4 criteria of evaluation of the diamond are defined by the "4 Cs":

- Cut (its size, i.e. the shape that the cutter has given it by creating facets)

- Clarity (its purity)

- Color (its color, ranging from D exceptional white + to Z tinted)

- Carat (its weight)

Main gemstone cut / shape

Princess

Number of gemstones

1

Carats range

0,20 to 0,30 carat

Average total weight in carats

0,2
Model

Pendant 360° - White gold diamond princess 0,20 carat

Materials

18k white gold (750 ‰)

18k white gold (750 thousandths) is 75% pure gold, alloyed with other precious metals to make it workable and give it its beautiful white color. It is the most beautiful quality of gold that can be found in jewelry. 

Number of gemstones

1

Carats range

0,20 to 0,30 carat

Average total weight in carats

0,2

Chain length

39,5 cm, with adjustment rings

Mesh

Forçat type

Clasp

Lobster

Materials

18k white gold (750 ‰)

Category

Necklaces
Gemstones

Diamond

The 4 criteria of evaluation of the diamond are defined in English as the "4 Cs":

- Cut (its size, i.e. the shape given to it by the cutter by creating facets)

- Clarity (its purity, defined by the inclusions with which the stone is endowed, visible with a magnifying glass x10)

- Color (ranging from D, exceptional white +, to Z, tinted)

- Carat (its weight)

Main gemstone cut / shape

Princess

The "princess cut" is a geometric cut (i.e. the way the stone is cut), which gives the gem a brilliant square shape.

Average total carat weight of the main gemstone

0,2

Main gemstone diameter

3,8 mm

Main gemstone clarity

V.S.2-S.I.1

Very small inclusion à small inclusion

Main gemstone color

F-G

Number of main gemstones

1

Average total carat weight

0,2
Chain material

White Gold 750 th

Sub-typology

Choker
The opinion of the Lepage team
"La Brune et La Blonde casse les codes de la Joaillerie traditionnelle en osant percer le diamant. Ainsi mis à nu la pierre préieuse à tout le loisir de scintiller et parvient à capter idéalement la lumière. Dénué de serti, le diamant de 0,20 carat est ici présenté en taille Princesse sur une chaîne maille forçat en or blanc 750 millièmes. Création réellement singulière et audacieuse, le pendentif 360° parvient s'affirmer comme un bijou simplement épatant !" Marie, Lepage Le Havre

Lepage est revendeur officiel LA BRUNE ET LA BLONDE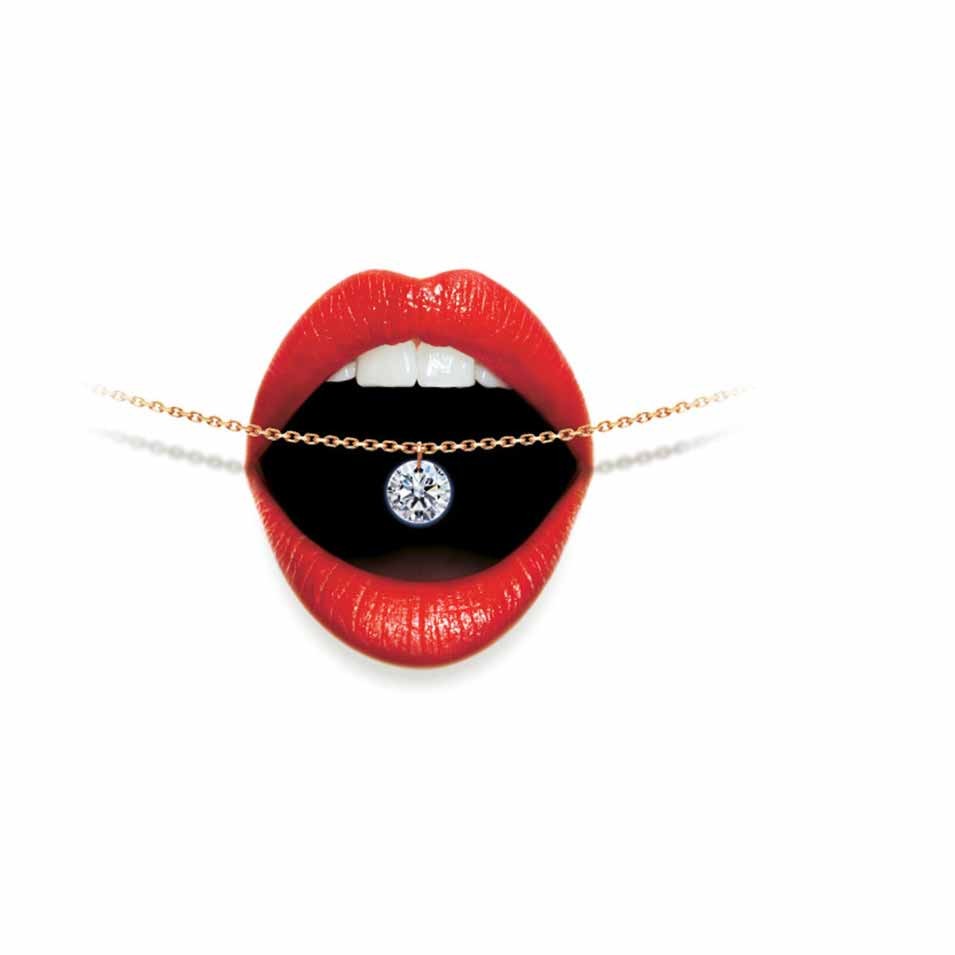 Discover LA BRUNE ET LA BLONDE